Apples Baked with Walnuts and Jam
Apples Baked with Walnuts and Jam
Baked Apples are my favorite! They flavor the house with a delightful aroma, are warming and cozy on winter, quick and easy to make for any occasion, Low Glycemic, a great source of energy, and … simply tasty!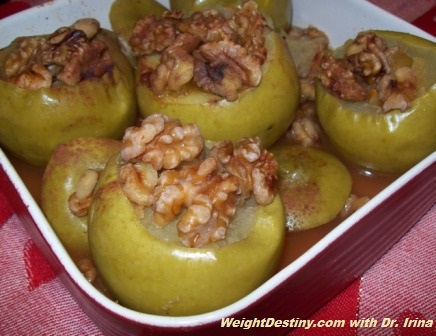 Ingredients:
4 Granny Smith apples
4 tsp of Orange Marmalade (100% fruit, no sugar added)

(if you celebrate Rosh Hashanah, use 4 tsp of honey (once a year ONLY! )

1/3 cup of walnuts
1tbs fresh ginger finely chopped
1 tsp ground cinnamon
1/4 tsp ground nutmeg
1 pinch of ground cloves
1/2 dry red wine (optional)
Directions:
Core apples digging out the seeds and making the holes about one inch deep.
Using a fork puncture the apples in several spots around.
Place apples in a baking dish.
Fill each cavity with the Orange Marmalade, top with ginger and nutmeg.
Arrange walnuts in each hole, and then sprinkle with cinnamon and clove.
Splash with red wine if you choose to

Cooking option # 1:
Cover with a glass cover.
Cook in a microwave for 4 minutes. Open and check with a fork if the apples are soft. If not, cook for 3-4 more minutes.
Cooking Option # 2:
Cover with an aluminum foil.
Cook in preheated oven on 375*F for 30-35 minutes, or until apples are soft.
Weight Loss Help
The Glycemic Index of this dessert is LOW:
Cinnamon is a proven spice for enhancing metabolism and helps to reduce weight.
You can have a baked apple after a meal, as a dessert.
You can also make them ahead and keep in a refrigerator. Then heat 2-3 apples in a microwave for lunch, or if you want a snack. They will satisfy your appetite, and this Low Glycemic Index meal will help you in reducing weight.