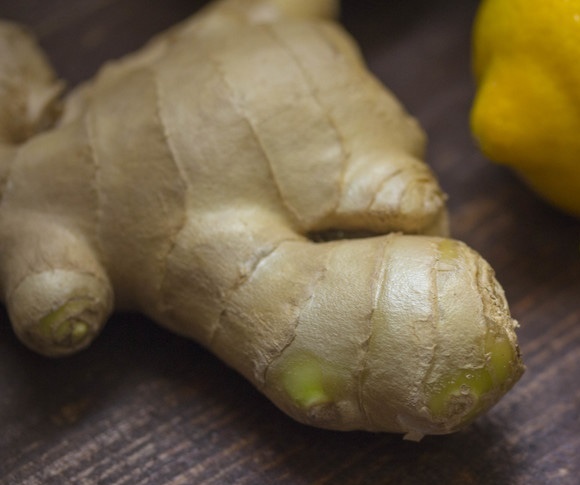 Ginger acknowledged for its ability to improve general health and to treat many diseases and conditions. It strengthens immune system, has proven anti-inflammatory effect, stimulates the nervous and the circulatory systems, acts as powerful aphrodisiac, and plays an important role in weight management.
Ginger is the underground rootstock of the ginger plant.  The flesh of the ginger root can be yellow, white or red, depending on the variety. It has a firm, striated texture and aromatic spicy taste.
Health Benefits of Ginger
Have a significant impact on excessive inflammation, which is a underlying cause of many illnesses:
A sore throat, common cold, sinusitis, cough, asthma, fever.
Rheumatic arthritis, joint pain, muscles tensions.
Diarrhea, abdominal distension, poor digestion.
Strengthening immune system, wich means that:
You get sick less often

Recover more quickly when you do get sick

Stay healthy when people around you got sick.
Ginger is a natural stimulant:
Increase concentration on your work tasks and helps stay focused

Improve  mood fighting depression
Powerful aphrodisiac:
Increases sexual desire
Increases a secretion of testosterone
Increases the circulatory system functioning. Therefore it works for both sexes equally, since both male and female sex organs rely heavily on circulation.
Weight Loss Help
Ginger plays an important role in weight management.
It acts as a fat burner. Increasing metabolism, it helps to lose weight FAT, and not just general weight or water loss.
Helps you feel full, so you'll eat less and feel fuller longer, reducing your appetite and overall food intake.
Manage blood sugar level preventing you from feeling fatigue and sleepy during the day.
It also helps the body absorb nutrients. If you are trying different diets, your body can become used to not getting the required nutrients, and properly

absorb them. 
How can we practically benefit from Ginger?
Making a fresh juice, add ginger in your juice along with other fruits and vegetables of your choice.
Combine ginger, olive oil and garlic to make a wonderful salad dressing.
Add grated ginger to your favorite Fruit Desserts and stuffing for Baked Apples.
Spice up sautéed vegetables with freshly minced ginger.
Add ginger to your tea
Chew ginger to help overcome postoperative pain, nausea and airsick.
Float some ginger essential oil into your bath to relieve muscles and joints discomfort.
If you feel cold, tired, low energy and weak, try this.
Health Magic Ginger Drink
Ingredients:
1 cinnamon stick
3 cups of water
1 sweet apple grated
½ lemon sliced
1 inch of ginger root sliced
5 whole cloves
5 whole black peppers
Pinch of grated nutmeg
2 tbsp of Agave syrup
Directions:
Boil cinnamon stick in water for 15 minutes
Add all other ingredients and boil for 5 more minutes
Turn the heat off and let rest for 10-20 minutes.
Drain, and drink while it's hot.
Optional for adults:
To increase its warming effect, add 1 tbsp of cognac or brandy to 1 cup of drained  Health Magic Ginger Drink .