#1 International Bestseller
The Expert Success Solution:
Get Solid Results in 22 Areas of Business and Life
It is my extreme honor and privilege to present the first collaborative success solution ever written for 22 different areas of business and life. I was fortunate enough to be part of an incredible group of authors, being invited on the basis of my weight loss expertise.
If you were to make a list of 22 barriers that are blocking you from getting everything you want in business and in life, what would be on your list?
Losing weight?
Increasing income?
Improving love?
Business development?
Spirituality?
Strategic thinking?
Retirement planning?
Career transition?
Stress reduction?
Work-life balance?
Fitness?
Ending overwhelm?
Family communications?
Ending financial problems?
Conflict resolution?
Goal achievement?
Reinvention?
Legacy-preserving stories?
Or maybe just having more fun?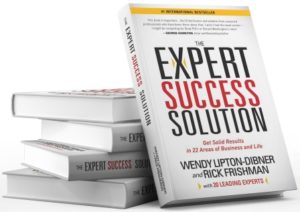 We all have areas of our lives we'd love to improve and there are lots of experts who can help us in each individual area. The problem is there is no the only all-knowing guru who can help us in every area of business and life.
That's why 22 leading experts came together in one room for 3 solid days and worked diligently by email and phone for a full year. Our mission was to create a simple, collaborative solution for 22 of the most critical personal and professional challenges encountered by men and women around the globe…And we did it.
The Expert Success Solution combines 300+ years of experience in business and personal development to provide practical, step-by-step strategies in a fast-reading, entertaining, inspirational, hit-you-between-the-eyes, how-to manual.
Filled with thought-provoking questions and real-life stories, the tools provided here will solve existing problems and help you avoid life's greatest speed bumps.
This is the juncture where motivation meets information and where the biggest decision you'll have to make is whether to grab a highlighter or a tissue!
Forget that value priced at $17.95. Take advantage of website SPECIAL offer, and save 20% 
Just $14.95 will change your life!
Get your copy now and grab more copies for your friends and family.
What better gift than a simple and practical solution to 22 of life's greatest challenges?