If you've had a chance to browse through the recipes on this website, you've already noticed, that for many desserts I use oatmeal flour. This is much healthier choice, and the outcome is  delicious.
Oats are a hardy cereal grain, easy to grow in even poor soil conditions. Oats gain part of their distinctive flavor from the roasting process that they undergo after being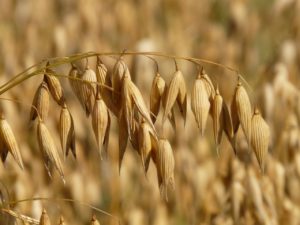 harvested and cleaned. Although oats are then hulled, this process does not take away their fiber and nutrients, necessary to maintain general health.
Oats are a good source of:
Vitamins B
Vitamin E
Calcium
Protein
Fiber, known as beta-glucan
Oats have a very positive effect on human's health:
Lower cholesterol levels
Play important role in preventing a heart disease or diabetes
Treat skin problems

Acute or chronic anxiety
Excitation and stress
Weak bladder
Connective tissue disorders
Gout
Metabolic diseases, and more
Weight Loss Help
Oats are really beneficial from the several perspectives: they are tasty, easy and quick to cook, may be healthy combined with other food categories.
Oats are a great substitute for wheat. The GIycemic Index of oats is 40 (medium) when white wheat has a Glycemic Index of 85 (high).
I substitute the wheat flour with oats flour for making pancakes , muffins and crepes, tart crusts, fruit desserts and other Low GI Recipes.
Try these meals with oats from Low GI Recipes: