Healthy Modified Traditional Hanukkah Meal
Traditional potatoes replaced in this recipe with Low Glycemic Index zucchini. Enjoy these Zucchini Latkes to lose weigh!
3 grated zucchini

½ cup of 0% fat Greek yogurt

3 eggs

½ teaspoon baking powder

½ teaspoon of salt

About 2/3 cup of oatmeal flour (to get a "sour cream texture")
Grate zucchini on a big grater, press them a little bit to remove a juice.
Add all other ingredients and stir well. Let mixture stand for at least 30 minutes. You can also keep the batter in a refrigerator up to 6-8 hours and cook latkes later.
Preheat a pan on medium heat. Take one tablespoon of the batter and cook it on the olive oil for about 1-2 minutes each side.
Weight Loss Help
The recipe based on L

ow Glycemic Index 

carbohydrates and doesn't contain saturated fats.

Do not eat Zucchini Latkes with sour cream or butter.

Serve them warm with 0% Greek yogurt (if desired), or just as they are.
And…they are simply delicious!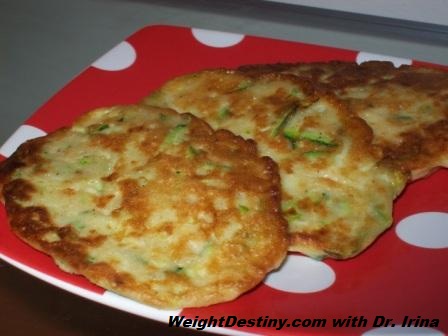 Comments