Asparagus Spears Wrapped with Turkey Bacon
Asparagus Spears Wrapped with Turkey Bacon
If you are looking for light appetizers recipes, this Wrapped Asparagus appetizer is a great substitute for a traditional "bacon wrapped asparagus appetizers." Using Prosciutto would me another good option.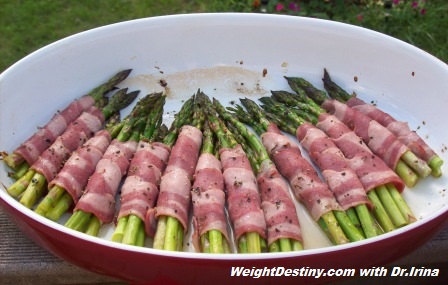 Ingredients:
48 asparagus spears
1 pack (16 slices) turkey bacon or prosciutto 
Basil flavored olive oil
Lemon juice
Ground black pepper
Directions:
Wrap one slice of turkey bacon or prosciutto around three asparagus spears, starting at the tip, and spiraling down to the bottom.
Place the wrapped asparagus spears in a single layer on a baking dish.
Sprinkle with the lemon juice and olive oil.
Garnish with fresh ground black pepper.
Bake 15 minutes in the preheated toaster/ or regular oven on 450*F, until the meat is crispy and the asparagus is tender.
Serve immediately.
FYI:
The wrapped asparagus appetizer can be made a night ahead. Arrange wrapped asparagus spears in a baking dish, cover it with nylon and keep in a refrigerator up to 24 hours. Cook right before serving.
Weight Loss Help
The Glycemic Index of asparagus is very low, only 15.
Turkey bacon and prosciutto have lower fat content compared to pork bacon.Using them reduces saturated fat intake. That prevents elevation of blood cholesterol and protecting your heart and blood vessels.