Healthy Crostini with Walnuts
Healthy Crostini with Walnuts
Walnuts Crostini is a great addition to a green salad or soup; they are smart Low GI replacement to traditional croutons or crackers. You can also serve them as an appetizer before dinner, or have as a healthy snack between meals.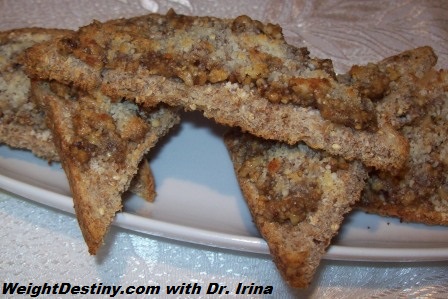 Ingredients:
5 slices of Ezekiel 4:9® Sprouted 100% Whole Grain Bread
5 tbsp of olive oil
1 pressed or finely chopped garlic clove
½ cup finely chopped walnuts
Parmesan cheese
Directions:
Cut bread slices by diagonal, brush them with the olive oil and arrange on a baking sheet.
Bake until slightly golden for 4-5 minutes.
Chop walnuts with a garlic clove in a chopper.
Top crostini with the walnut-garlic topping, and sprinkle with Parmesan cheese.
Put in the oven for 5-7 more minutes, or until the cheese creates a golden crust.
Weight Loss Help
Ezekiel 4:9 Sprouted 100% Whole Grain Bread is made from sprouts and totally flourless. Its Glycemic Index is 36 (medium-low).
Walnuts have GIycemic Index of 15. They are rich in healthy unsaturated oils and are cholesterol free.