Sweet Stuffed Chicken Thighs for Rosh Hashanah
Sweet Stuffed Chicken Thighs for Rosh Hashanah
Traditionally, people make for Rosh Hashanah sweet meals, which symbolizes а sweetness of upcoming year. It doesn't mean that we should cheat our healthy Low Glycemic lifestyle. We can have both: enjoy а delicious sweet meal and keep the lifestyle.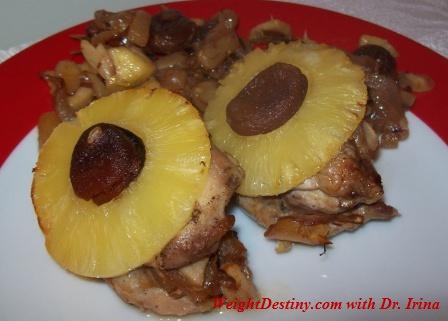 For 6 boneless skinless chicken thighs:
Stuffing:
1 big sweet onion
1 can (20 oz, 567g) pineapple slices in 100% pineapple juice
1 cup dried apricots no sugar added
½ cup sliced almonds
Olive oil for cooking
Salt and black pepper
Directions:
Save aside 6 pineapple rings for topping
Cut the rest of pineapple rings into small cubes
Slice an onion into thin ¼ rings and cook on olive oil to golden brown
Add dry apricots, pineapple, and almonds, and cook for another 5-7 minutes
To add moisture, pour in about 1/3 cup of pineapple juice from the can
Place chicken thighs in a baking dish, sprinkle with salt and pepper
Stuff with 1-2 tbsp of sweet mixture
Top each stuffed chicken thigh piece with a pineapple ring
Bake uncovered in a preheated oven on 420*F (195*C) for 50-60 minutes
Before serving, take 6 apricots from the mixture, and place each one in the center of each pineapple ring
Serve the rest of stuffing separately or by each portion
Weight Loss Help
The sweetness of this meal comes from fructose, which is natural sugar of fruits
The Glycemic Index of fructose is low (only 20), versus high Glycemic Index of sugar (100)
Looking for easy to make healthy dessert?