Sweet Peppers Stuffed with Tuna Salad
Sweet Peppers Stuffed with Tuna Salad
Stuffed Sweet Peppers is a very colorful and appealing meal. It can be easily prepared a night ahead.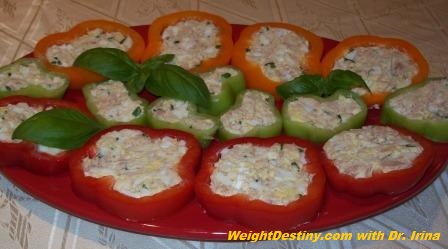 Ingredients:
1 sweet yellow or orange pepper
1 Italian green pepper
1 sweet red pepper
Tuna salad stuffing:
2 cans (10 oz) Chunk Tuna in Water
4 eggs hard boiled
Small bunch of chives, finely chopped
1-2 tbsp of mayonnaise (sugar and starch free)
Salt and black pepper
Directions:
Cut peppers' stems and remove seeds.
Drain the water from tuna cans, and mix together all salad ingredients.
Stuff the bell peppers with the tuna salad, place them in a container, and keep in a refrigerator overnight.
Cut stuffed peppers into ½ inch thick rings, and arrange beautifully on a serving dish.
Weight Loss Help
The Glycemic Index of sweet peppers and chives is 15, which is very low.
Tuna and eggs belong to a healthy 'proteins and healthy fats' categories
Serve it as an appetizer for dinner, or have it for lunch.