Sweet Memories Apple-Cranberry Cake
Sweet Memories Apple-Cranberry Cake
You are willing to keep your ideal weight, but missing a flavor of your grandma warm apple cake? Not a problem at all. This upside-down country style Apple Cranberry Cake will satisfy your appetite as well as your memories, and will keep you slim.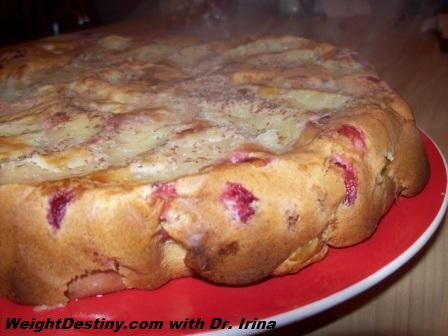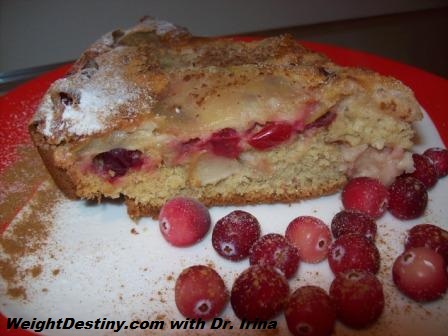 Ingredients:
Filling:
4 big apples of your choice cut into thin lobes
½ cup fresh cranberries
1 tsp ground cinnamon
Batter:
4 eggs
½ cup pure fructose or Splenda®
2/3 cup oatmeal flour
1/3 cup sprouted flour
1 tsp baking powder
Directions:
Cover round cake pan with a baking paper; arrange layers of apples and cranberries. Sprinkle with ground cinnamon.
Beat eggs with an electric mixer for 2-3 minutes, stir in fructose (or Splenda®) and beat until light and fluffy
Gradually add oatmeal flour,sprouted flour, and baking powder. Stir gently.
Pour batter over apples and cranberries.

Bake in 360*F for 35-40 minutes, or until inserted wooden toothpick comes out clean.

By pulling the baking paper remove the cake from the pan. Place it upside-down on the plate and take out the baking paper.
You can now sprinkle it with more cinnamon and serve warm or cold.