Spring Chickpea Salad
LOVE chickpeas! They have a pleasant nutty taste, easy to cook, well combined with other foods, and nutritionally valuable. They provide rich content of protein, dietary fiber, folate, iron, and phosphorus.
They also directly influence our appetite! People more satisfied when chickpeas are included in their daily food, they consume fewer snacks, and less food overall.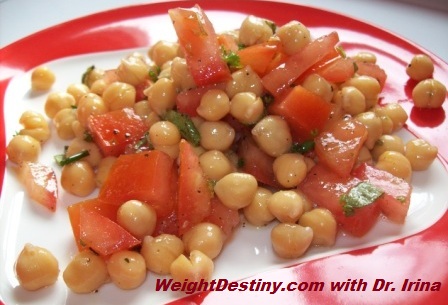 Ingredients:
1 can Chickpeas
1 big tomato
2 tbsp of fresh oregano leaves (or basil leaves)
Salt and fresh ground black pepper
Basil flavored olive oil
Directions:
Cut tomato into small cubes
Add all other ingredients and stir gently
Goes very well with canned tuna, red or pink Salmon, any cooked fish or chicken.