Spelt Matzos Casserole
or Pashteda le Pesah 😉
This casserole is actually a special meal for Passover. But cooking it once, you'll fell in love with it and then cook again and again on many other occasions. VERY simple and delicious meal. Expect lots of compliments!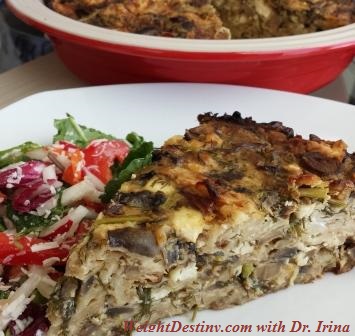 Ingredients and directions:
1 big onion

1 pound of mushrooms
Cook in olive oil until golden brownish, set aside to cool
In a separate bowl mix:
 5 eggs

½ cup Greek yogurt 0% fat

½ pound of Feta cheese

4 Spelt Matzos broken into ½ inch pieces

1 cup of chopped dill

Pinch of salt, black pepper, and nutmeg
Add mushrooms-onion mixture and mix again gently. 
Cook in a deep baking pan on 390*F (180*C) for 35-40 minutes
Low Glycemic

Flourless 

Sugar-free
Hag Pesah Sameah!