Smoked Sprats, Cucumber, and Eggs Bunches
Smoked Sprats, Cucumber, and Eggs Bunches
If you are looking for healthy and good-looking appetizers, this one would be the ideal match. Light, tasty, and looks very cute.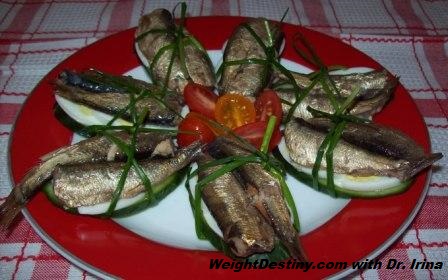 Ingredients:
English cucumber
Hard boiled eggs
Smoked Sprats (you may use smoked sardines or other smoked fish)
Chives
Directions:
Cut cucumber in a ¼ inch thick slices
Using an eggs-cutter, cut eggs long-wise
Place 1 egg's slice on each slice of cucumber
Place 1-2 smoked sprats on the top and tie with one chive spring.
That's it! You are done 🙂
Weight Loss Help
This healthy appetizer recipe doesn't suggest using bread or crackers as a base
Instead, you use a cucumber which Glycemic Index is only 15
Smoked fish and eggs provide you with healthy proteins and unsaturated fats
The calories consumed with smoked fish and eggs support your energy level without being stored as a body fat