Skinny Mommy Meatloaf
If you are on your path to reduce some weight, have this Three Meat Meatloaf without any doubts. Since you should avoid bad carbs, traditional  bread crumbs are excluded from this recipe. They replaced with healthy veggies, mushrooms, and peppers.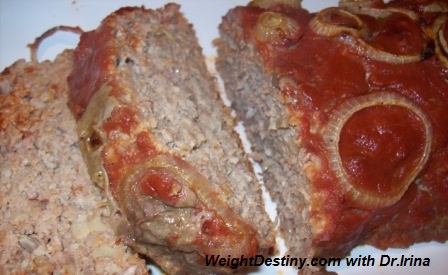 Ingredients: 
1 pound of ground beef
1 pound of ground chicken
1 pound of ground turkey
1 onion, finely chopped
1 small red, green or yellow pepper, chopped
2-3 medium sized white mushrooms, chopped
1 tablespoon of Worcestershire sauce
1 tablespoon of tomato paste or puree (no sugar added)
2 beaten eggs
Salt and pepper
Directions:
Keep 2-3 tablespoons of tomato paste and some onion rings for decoration.
Mix well all the ingredients, firm a meatloaf
Spread the rest of tomato paste on the top and arrange with onion rings.
Cook a meatloaf in 430*F oven for 40-45 minutes.
Serve it with a green salad, fresh or baked vegetables of your choice, or steamed green beans.
Things to avoid:
Potatoes of any kind
Corn
White rice
Pasta