Seasoned Chicken Breast with Cauliflower and Broccoli
Seasoned Chicken Breast with Cauliflower and Broccoli
I wouldn't be even calling it a "recipe," rather a simple "recipe idea" for a healthy quick meal. Literally, takes just 10 minutes to cook.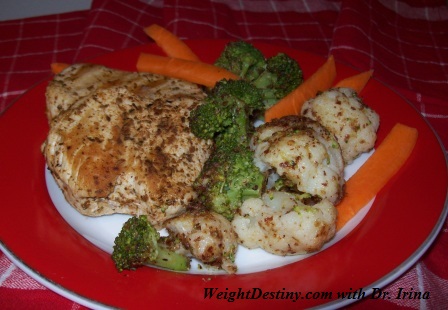 All you need is:
Chicken breasts
Cauliflower
Broccoli
Almond meal
Favorite seasoning
Boil a cauliflower and broccoli in salted water for 3 to 5 minutes, and strain.
Transfer them to an oiled preheated skillet, sprinkling with almond meal generously. Cook stirring periodically until brown crispy, this usually takes 3-4 more minutes. Salt and pepper it, or add any seasoning of your taste.
Meanwhile, cut chicken breasts about ½ inch thick, and cook them in another skillet on olive oil for a couple of minutes each side. Season with your favorite seasoning.
This is it! The dinner is ready 🙂
Weight Loss Help
The only harmful ingredient may be hidden in your seasonings. They look innocent, but many of them contain sugar, and corn or potato starch. Pay close attention to the ingredients, and avoid using those brands.
Using defrosted cauliflower and broccoli is also fine. Just dry them well with a paper towel before cooking.
You can add any fresh salad or fresh vegetables to this meal.