Oatmeal Crepes for Weight Loss
Oatmeal Crepes for Weight Loss
Having a warm cozy breakfast reminds me my childhood when I was waking up with deliciously smelled pancakes, crepes, or pirozhki which my mom cooked. Maybe you too? Now, since you watch your figure, you don't even dare to cook something like that, right? Such sacrificing is absolutely unnecessary. If you substitute High GI products with Low GI components, you enjoy your cozy breakfast, indulge your loved ones, and stay in shape! I bet you'll like these quick and easy to make healthy oatmeal crepes.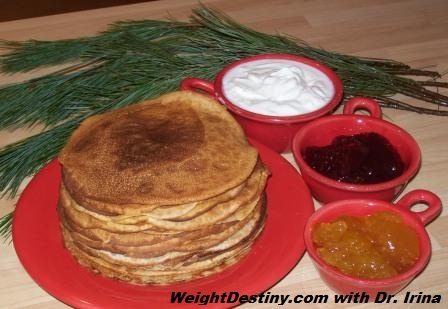 Ingredients:
½ cup of dry milk
2 cups water
½ cup olive oil
2 eggs
2 cups Oatmeal flour
½ tsp baking powder
2 tsp pure fructose or Splenda®
2 dashes of salt
Directions:
Mix all ingredients in a medium bowl and beat well until well combined. The batter may look too liquid, but oatmeal flour will swell.
Leave the batter in a room temperature for several hours. I like making it a night ahead, so next morning you get it ready for cooking.
Beat the mixture again before cooking. Add some water if it is too thick, or some oatmeal flour if it is too liquid.
Cook oatmeal crepes in a small size non-stick fry pan, over high-medium heat, about 1 minute on each side or until they are golden brown. Since there is an olive oil in a batter, crepes should not stick to a pan. However, I recommend sprinkling a pan with a little bit of olive oil before cooking the first one.
Weight Loss Help
Oatmeal flour itself has medium Glycemic Index 
Eat these crepes with 0% Greek yogurt or/and 100% fruit jam, or/and fresh berries.
Food to AVOID:

High GI carbs: honey, maple and other syrups, regular jams with sugar.
Saturated fats:  butter, sour cream or whipped cream