Low Glycemic Pineapple Sorbet
Low Glycemic Pineapple Sorbet
Here is one more light refreshment for a hot summer day. Low Glycemic refreshing Pineapple Sorbet. If you have an ice cream maker, follow the instructions for preparation. If you don't, see the TIP at the bottom of this page.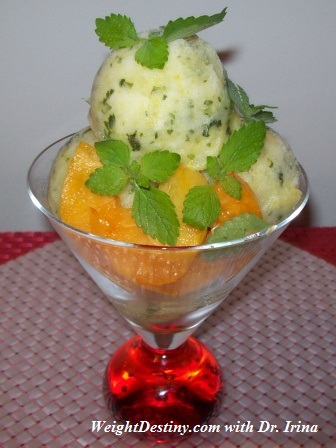 Ingredients:
1 pineapple peeled

1,5 cup cold water

1/2 cup pure fructose
2 tbsp fresh lemon juice 

2-3 tbsp fresh mint leaves, chopped

Mint springs for decoration if desired
Directions:
Chop pineapple and lemon juice in a chopper or food processor

Add fructose and process for 20-30 more seconds

Remove, a

dd water and chopped mint

Mix all together and refrigerate for several hours, or overnight.

Turn on your ice cream maker, and pour the mixture into a previously frozen freezer bowl.

Let mix for 15-20 minutes
The texture of a sorbet should be similar to a texture of mashed potatoes (which we don't eat 😉
Transfer the sorbet to an airtight container, and freeze for several hours or overnight.

Garnish with mint leaves and berries of your choice before serving.
TIP: If you do not have an ice cream maker, you can transfer mixture to a pyrex baking pan. Cover it tight, and freeze until firm (about 2 to 3 hours). Stir it with a fork every half hour.
Weight Loss Help
Fructose has very low Glycemic Index (20) versus high Glycemic Index of sugar (100)
Fructose is a natural product and tastes as sugar, even better

When garnish, avoid using cookies, chocolate chips or any syrup.
Try more ice cream, sorbet, and frozen yogurt flavors