Lemon Mint Sorbet
What do people want on a hot summer day? Right, ice cream! I just bought a new toy – Ice Cream, Sorbet and Frozen Yogurt making device – and came with my own version of refreshing Lemon Mint Sorbet. Of course, I made it Low Glycemic 🙂 If you have an ice cream maker, follow the instructions for preparing this dessert. If you don't, see the TIP at the bottom of this page.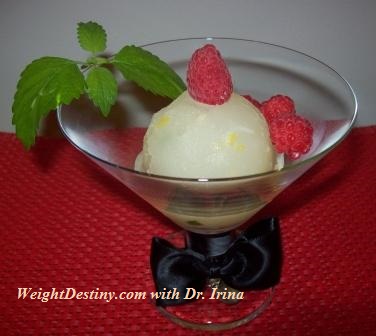 Ingredients:
2 cup water

1.5 cup pure fructose

4 tbsp lemon zest

1 cup fresh mint leaves, chopped

2 cups lemon juice
1 cup lemon flavored seltzer water, no sugar added
Freshly squeezed lemon juice from ½ lemon

1 inch of Ginger root chopped  
Keep aside 2 tbsp of lemon zest and 2-3 tbsp of chopped mint to add to a sorbet at the very end.
Directions:
Combine first two ingredients with 2 tbsp of the lemon zest in a saucepan, and cook until fructose is fully dissolved.

Remove, and let cool for 30-40 minutes.

Add other ingredients, keeping aside the rest of the lemon zest and 1-2 tbsp of chopped mint.

Mix all together and refrigerate for several hours, or overnight.

Filter the chilled mixture through a fine mesh strainer.

Turn on your ice cream maker, and pour the mixture into a previously frozen freezer bowl.

Let mix for 15-20 minutes, and then add the rest of the lemon zest and mint, and mix for 3-5 more minutes.
The texture of a sorbet should be similar to a texture of mashed potatoes (which following the low glycemic lifestyle we don't eat 😉
Transfer the sorbet to an airtight container, and freeze for several hours or overnight.

Garnish with mint leaves and berries of your choice before serving.
TIP: If you do not have an ice cream maker, you can transfer mixture to a pyrex baking pan. Cover it tight, and freeze until firm (about 2 to 3 hours). Stir it with a fork every half hour.
Weight Loss Help
Fructose has very low Glycemic Index (20) versus high Glycemic Index of sugar (100)
Fructose is a natural product and tastes as sugar, even better
Please pay choose close attention to the ingredients of seltzer water. It should be sugar and high fructose syrup free.
I used 100% lemon juice from concentrate. You can definitely choose using freshly squeezed lemon juice; just consider having enough lemons for getting 2 cups of juice.

When garnish, avoid using cookies, chocolate chips or any syrup.
Try more ice cream, sorbet, and frozen yogurt flavors