Lightest 4th of July Cake Ever
Lightest 4th of July Cake Ever
Looking for a light, easy and healthy desserts recipes? I modified a traditional 4th of July flag cake with Low Glycemic Index healthy ingredients 🙂 so you can enjoy this super light and delicious no-guilt-cake.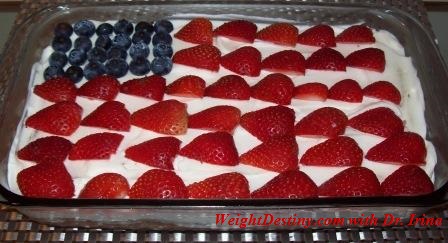 Ingredients:
For a base:
For frosting:
½ pint (250 ml) whipping cream

1 tbs pure fructose

1 Siggi's fat-free Vanilla yogurt
For decoration:
Strawberries and blueberries
Directions:
Pour the dough into a baking dish 

Bake 16 minutes in preheated oven on 350*F (160*C)

Let cool in a room temperature

Meanwhile, whisk a cream with fructose, and add yogurt at the end

Spread frosting over a cake and decorate with berries

For letting flavors blend, make the cake and cover it with frosting 1-2 days ahead and keep in a refrigerator. Then, 1-2 hours before serving, decorate it with berries. 
Weight Loss Help
The Glycemic Index of Almond meal is low, only 15
The Glycemic Index of pure fructose is 20, which is 5 times less than Glycemic Index of sugar (100)
There are NO other carbs in this recipe
Siggi's Vanilla yogurt is sugar-free
If you prefer do not use heavy cream because of high blood cholesterol, you can skip it, and use 4-5 Siggi's Vanilla yogurt instead
Have a Happy and Healthy 4th of July Celebration!