How to Make Low Glycemic BELYASHI
How to Make Low Glycemic BELYASHI
BELYASHI is a meal 

originated from 

Bashkir

and

Tatar cuisine and widespread

in Russia. 

It is  a round-shaped 

patty

of

yeast dough, stuffed with ground meat. Obligatory

opening at the top ensures a fully cooking of a fresh meat inside.

 
Click on the link below for the recipe of my multipurpose Low GI dough. The dough is very simple and easy to make, just consider some extra time for its rising. 
Stuffing ingredients:
1/2 pound ground beef
1/2 pound ground chicken
1 finely chopped onion
4-5 finely chopped big white mushrooms

Salt and black pepper
Directions:
When the dough is ready, slightly oil a flat surface to make dough balls

Pinch off pieces approximately the size of golf balls, and flat them into disks about 3-4 inches in diameter

Fill center of each disk with 1- 2 tablespoon of the meat mixture

Fold disks over the staffing and pinch edges, leaving an open space in the center (about 1 inch in diameter)

Cover with nylon and allow to sit for 30 more minutes.

Preheat olive oil in a deep skillet

Place belyashi in heated oil with open side down

Fry until golden brown on that side, then gently turn and fry the other side

Serve warm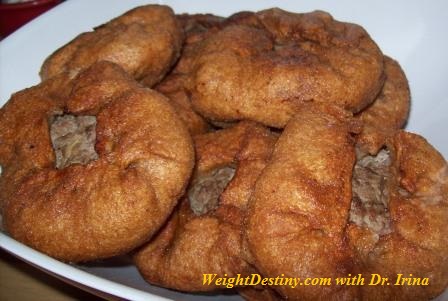 Weight Loss Help
The Glycemic Index of mushrooms and onions is only 15
Sprouted flour, used for a dough, made from sprouts and not grains. The Glycemic Index of such flour may vary from 30 to 40, which is Low-Medium