Fresh Raspberry Ice Cream
Fresh Raspberry Ice Cream
Fresh Raspberry Ice Cream is my (and many other people) second choice after Coffee Ice Cream. Both have an amazing flavor and are truly enjoyable. You can easily make them using an ice cream maker.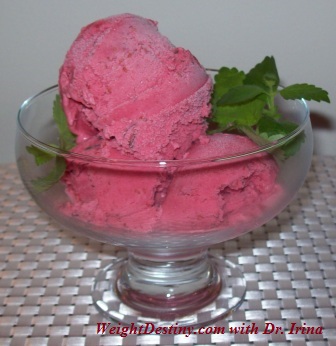 Ingredients:
2 cups fresh raspberries finely chopped or pureed

2 cups light cream

1/2 cup pure fructose

1 tsp vanilla extract (optional)

 
Directions:
Using an electric mixer, whisk light cream with fructose for 2-3 minutes
Stir in pureed raspberries and vanilla and mix well

Refrigerate for several hours or overnight

Pour the mixture into the frozen freezer bowl

Mix until thickened, about 15-20 minutes

Transfer to an ice cream container and freeze for at least 2 hours. 
Weight Loss Help
Fructose has very low Glycemic Index (20) versus high Glycemic Index of sugar (100)
Fructose is a natural product and tastes as sugar, even better

When garnish, avoid using cookies, milk chocolate chips or any syrup
You have more ice cream, sorbet, and frozen yogurt flavors to try!