Fish Cakes with Tzatziki Sauce
Fish Patties with Tzatziki Sauce
FISH PATTIES is a light and nutritional meal. You can have them for lunch or for dinner, as an appetizer or an entree.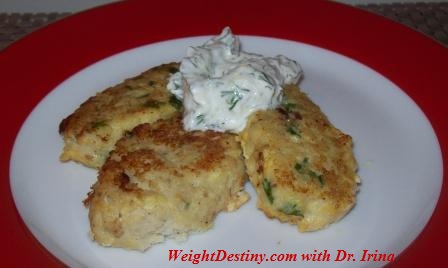 Ingredients:
2-pound ground fish (I use Pollock)
½ pound farmer cheese
2 eggs
1 medium onion chopped
1 tbsp chopped dill
1 tbsp chopped parsley
Salt and black pepper
Oil olive for cooking
Directions:
Mix all the ingredients and keep in a refrigerator to blend for 1 hour.
Make medium size patties and cook them in olive oil on a preheated skillet for a couple of minutes from each side.
Transfer to a baking dish and cook in a 390*F (180*C) oven for another 15-20 minutes.
For Tzatziki Sauce
Ingredients:
1 pound plain Greek yogurt 0% fat
1 English cucumber finely grated
1 tbsp Apple vinegar
1 tbsp freshly squeezed lemon juice
3 tbsp olive oil
2 minced garlic cloves
1/2 cup minced fresh dill
Salt and freshly ground black pepper
Directions
Grate the cucumber and squeeze the liquid well, using a sieve
Mix all the ingredients in a bowl
Keep in the refrigerator for a few hours for the flavors to blend. You can also make it a night ahead.
Weight Loss Help
This meal is carbs free
Fish oil and olive are unsaturated fats, which are very good for your health
As a side dish, you can have any fresh salad or cooked vegetables. Best choice in terms of weight loss and good taste would be:

Zucchini
Green beans
Asparagus
Enjoy and get slim!