Easily Stuffed Sweet Peppers
Easily Stuffed Sweet Peppers
Stuffed Sweet Peppers is another nutritional and cozy winter meal.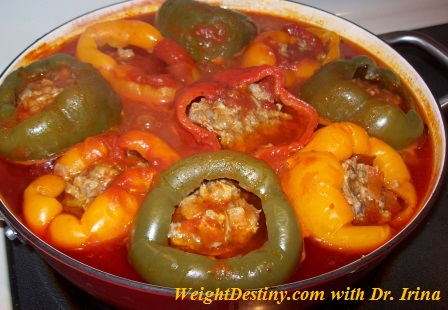 Ingredients:
8 sweet peppers (I like to use different colors)
For stuffing:
2 pounds of ground beef
1 big onion chopped
4 big white mushrooms grated or chopped
1 tbs Worcestershire sauce
Salt and pepper
For cooking:
Olive oil
1 can (28oz) crushed tomatoes
1 cup of water
Directions:
Core and seed sweet peppers, leaving bottoms intact, and sprinkle inside with a little bit of salt
Mix all stuffing  ingredients and stuff the peppers
Place peppers in a deep wide pan with olive oil, add crushed tomatoes and water
Cover the pan, bring to boiling, then reduce the heat and cook on low temperature for an hour

Peppers comes even more delicious when cooked 1-2 days ahead and reheated before serving
Weight Loss Help
Stuffed Sweet Peppers meal doesn't include "bad carbs" which are guilty in gaining weight
Using mushrooms instead traditional rice or breadcrumbs, makes the stuffing juicier, and keeps the meal Low Glycemic
If you avoid eating a red meat, make the stuffing with ground chicken, ground turkey or both
If you are vegetarian or prefer making meat-free-peppers for any other reason, replace ground beef with other vegetables.

Alternative stuffing: more mushrooms and onions, zucchini, eggplant, chopped white cabbage. You may add a couple of eggs there, to make the stuffing sticky.
Avoid carrots, potatoes, white rice and corn.

For more appealing presentation and more piquant taste,top them with a tablespoon of sour cream or Greek yogurt before serving.