Easy and Healthy Oatmeal Pancakes
Easy and Healthy Oatmeal Pancakes
These Oatmeal Pancakes are SO light and tasty, simply irresistible! Cook them for breakfast, and they'll make your day!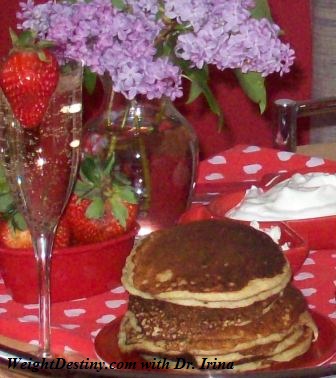 Ingredients:
Mixture 1:
2 cups oatmeal flour
2 tbsp Splenda
2 tsp baking powder
1 tsp baking soda
½ tsp salt
Mixture 2:
2 cups fat-free buttermilk
1/3 cup milk made from a dry milk powder
2 eggs
¼ cup olive oil
Optional:
½ cup fresh or frozen blueberries
Directions: 
In a large bowl combine all ingredients of mixture 1
In a second bowl combine all ingredients of mixture 2
Pour the second mixture into the first one, beating with a stirring whisk
Leave a batter in a warm place for 30-40 minutes
If you like oatmeal  pancakes with blueberries, divide the batter into two parts and add ½ cup blueberries to one of them. Then you'll have both plain and blueberry oatmeal pancakes.
For best results, cook over medium-low heat (level 4-5)
Brown on both sides and serve hot.
Weight Loss Help
Follow precisely to the listed ingredients and avoid using even low fat (1% 2%) buttermilk. That combination influences fat's metabolism, which will hold you back from reducing weight.
Serve with:
 0% Greek yogurt
100% fruit jam
Agave syrup
Fat and sugar free butter or margarine spread
Fresh strawberries
Fresh blueberries