Healthy Desserts Ideas
When it comes to dessert, our commitment to weight loss can evaporate in seconds. Desserts are is so attractive!
Are there any desserts that would not challenge us, but rather HELP losing weight? The answer is YES! You have many Low GI desserts to enjoy. They are all  light and healthy, quick and easy desserts that take just several minutes to arrange.
Varieties of dark chocolate which contains more than 70% cacao
Varieties of nuts. Almonds in 73% cacao dark chocolate will satisfy any gourmet taste (please avoid nuts roasted in sugar or honey)
Assorted Compote of 100% own juice canned fruits and frozen berries (looks gorgeous and very refreshing).
Dessert cheeses platter:  cheese with cranberry, blueberry, apricots, pistachio or walnuts.
All kinds of fresh fruits and berries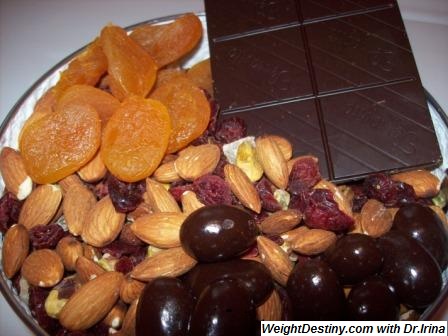 Full-color e-book    All You Need Is…Chocolate!
$12.95
CHOCOLATE…What comes first to your mind when you hear this word, see fine chocolates, or smell its aroma? Chocolate has been considered as a gourmet treat by many cultures. Some ancient rituals handled cacao as a symbol of magic, spirituality, connection to God and heaven. Chocolate reputation as an aphrodisiac made it a symbol of love and passion, and a traditional gift on Valentine's Day. Its ease melting symbolizes the melting of two hearts, and its profound taste makes the celebration of love and romance even more special.
Are you a chocolate lover but feel guilty having an extra bar? I am going to prove that your addiction to chocolate is a very healthy habit. 
Throughout the colorful fancy pages you'll discover:
Amazing and rare facts about chocolate
How eating chocolate helps you to lose weight
Why you can distress yourself and feel happy eating chocolate
How eating chocolate prevents many life threatening diseases
New yummy and healthy chocolate desserts' recipes
Get this lovely 37-colorful-pages e-book to your inbox immediately, for only  $12.95