Dark Chocolate Cupcakes for Halloween
Dark Chocolate Cupcakes for Halloween
If you don't want your kids to overeat sweets on Halloween, make these Dark Chocolate Cupcakes. They are sweet and yummy, but much healthier than regular ones.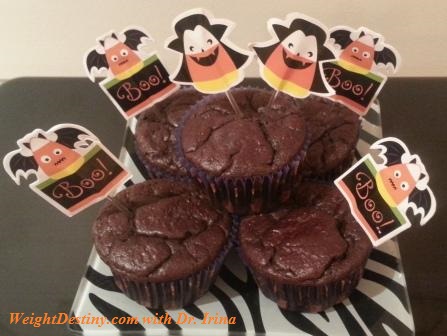 Ingredients
1/2 cup (1 stick or 115g) margarine
2 oz dark chocolate, 73% cacao 
1/2 cup (64g) unsweetened cocoa powder for cooking
¼ cup oatmeal flour
1/2 tsp baking soda
3/4 tsp baking powder
Pinch of salt
3 eggs at room temperature
6 tbsp of Splenda® or pure fructose 
1/2 cup (120ml) fat-free buttermilk 
Directions:
Preheat the oven to 350*F . Line a 12-cup cupcake/muffin pan with cupcake liners. Set aside.
Melt the dark chocolate and margarine together over a hot water bath, stirring until smooth. Set aside to slightly cool.
Mix together the cocoa powder, oatmeal flour, baking soda, baking powder, and salt.
In a large bowl, bit the eggs with an electric mixer until light fluffy texture. Add Splenda® or pure fructose and beat for a couple of more minutes (about 5 minutes total).
Add the cooled chocolate mix and whisk very gently until smooth.
Add half of the flour mixture, then half of the buttermilk.
Repeat until everything is added.
Divide the batter between 12 liners in your cupcake pan. Bake for 18 minutes, or until a toothpick inserted in the center comes out clean.
Weight Loss Help
There are no such high Glycemic Index foods as sugar, brown sugar or honey in this recipe
It is  free of saturated fats
Using margarine and fat-free buttermilk with low Glycemic Index carbohydrates (oatmeal flour, chocolate, fructose or Splenda®) is totally fine.
Avoid using frosting over the cupcakes, unless you find (or make your own) sugar-free frosting. If you do, please drop the line, I'll be happy to discover and to purchase it for myself 🙂
If you want to decorate them, melt some more dark chocolate with just 1 tbsp of margarine, let it slightly cool, and spill one teaspoon over each cupcake. OR, you can spread any kind of 100% fruit jam on top. Strawberry and orange jam make a delicious combination with chocolate taste. If you really want to go an extra mile, sprinkle with chopped walnuts 😉
Have Fun !