Crispy Duck Stuffed with Green Apples
Crispy Duck Stuffed with Green Apples
There is a general misunderstanding about fattiness of duck. When it makes sense in terms of the AMOUNT of fat, it is not true in terms of the QUALITY of that fat. Duck's fat (along with a goose fat and olive oil) belongs to a fat category called monounsaturated fats. It is different from saturated fats, which can hurt your health indeed. Consumed with low glycemic side dishes (good carbs,) duck can be considered as a very healthy meal.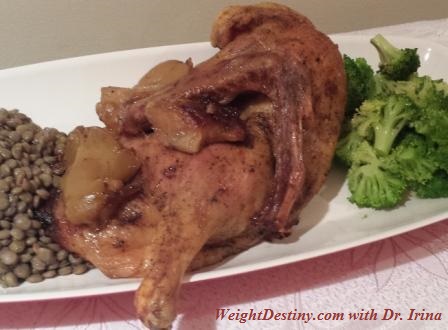 Ingredients:
1 duck 
3-4 medium size green apples Granny Smith

1 tbsp of kosher salt

1 tsp of black pepper
Directions:
Place an unfrozen duck into a deep baking dish breast-side up. Rub it inside and out with salt and pepper.
Remove seeds from apples and cut apples into 6 slices each. Stuff the duck with apples. Fix skin with a wooden tooth stick if necessary.

Put in a preheated to 430*F (200*C) oven. Bake for about 1 hour, or until a skin becomes crispy brown. 

Cover with aluminum foil and lower the temperature to 37o*F (170*C).

Cook for 1.5 more hours, pouring over the duck a liquid from a pan every 12-15 minutes.
 Side dishes:
Green lentils (the best for flavors harmony)   

Broccoli

Green zucchini

Yellow squash

Spaghetti squash

Mushrooms

Fresh salad of your choice 
Say NO to:
Potatoes
Corn
Croutons
Heavy dressings