Coffee Blossoms
Coffee Blossoms is an amazing coffee flavored cake. It is very light, moist, tasty, Low Glycemic, and easy to make.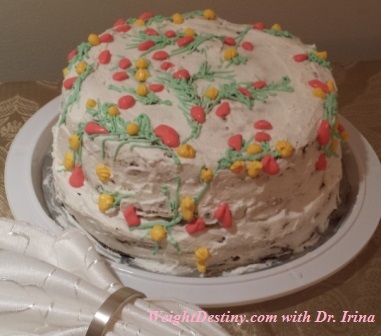 Directions:
Make

 Taste of Thoughts® Light Nutty Dough, according to the recipe

For a 4 – layers-cake, make doubled amount of the ingredients

Pour the batter into prepared round pans (I use 2 at a time), and bake 16 minutes at 390*F. 

While still warm, spread Tripple Espresso Vodka over each cake layer, using a kitchen brush

To assemble, place a cake layer on a cake plate.

Spread about 1/4 of prepared frosting, top with second layer, and so on.
Keep some frosting for decoration. Add your favorite colors and decorate as desired.
For soaking:
1/2 cup of Tripple Espresso Vodka
For frosting:
1 pound of whipping cream

1/2 cup of pure fructose
Using an electric mixer whip a whipping cream with fructose
Optional:
If you'd like to have a coffee flavored frosting with nuts, add the following ingredients:
1 tbs of instant coffee, dissolved in a 1-2 tbs of hot water

1/2 cup of Almond meal
Check more desserts with the multipurpose