Dark Chocolate Mousse
Chocolate Lover? Live Life Fully!
Enjoy this light, delicious, and easy to make dessert
Ingredients:
2 teaspoons of instant coffee

11oz. dark chocolate 70% cacao or more

2 fl oz. Coffee flavored Brandy

1 orange

2-3 tablespoons of fresh orange juice

6 eggs

1 pinch of salt
Make a 1/3 cup of coffee using the instant coffee.
In a double boiler, melt the dark chocolate, coffee and brandy. Stir with a wooden spoon until it becomes thick and smooth. Remove from the double boiler.
Grate the orange zest, using only the surface part of the peel. Put half the zest in the dark chocolate and mix.
Separate the eggs and put the yolks in a large salad bowl. Whip the whites until stiff, and add 1 pinch of salt.
Pour the melted dark chocolate into a salad bowl with the yolks. Mix well.
Add orange juice and whites gradually, stirring gently.
Fill individual dessert dishes, sprinkle with the rest of the orange zest and chill for at least 6 hours.
Weight Loss Help
We use to think that desserts are prohibited if we want to lose weight or to keep desired weight. However, you can enjoy this light and delicious dessert without gaining a pound. The Glycemic Index of chocolate which contains more than 70% cacao is only 20 (Low). The recipe does not include bad carbs or saturated fats. Eat it to lose weight!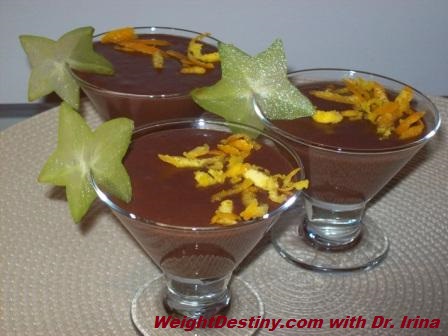 Comments