Dark Chocolate Mousse
When we want to lose weight and stay in a good shape, we are doing our best to stay away from desserts. However, it is not always necessary. Yes, you can enjoy this light and delicious dark chocolate dessert without gaining a pound. The Glycemic Index of dark chocolate (more than 70% cacao content) is only 20; any bad carbs and saturated fats are excluded. Savor it and lose weight!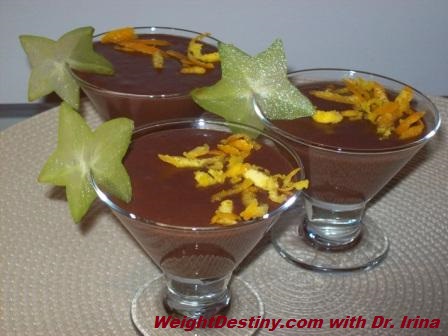 Ingredients:
2 tsp of instant coffee
11oz. dark chocolate 70% cacao or more
2 fl oz. Coffee flavored Brandy
1 orange
2-3 tablespoons of fresh orange juice
6 eggs
1 pinch of salt
Directions:
Make a 1/3 cup of coffee from the instant coffee.
In a double boiler, melt the dark chocolate, coffee, and brandy. Stir with a wooden spoon until it becomes thick and smooth. Remove from the double boiler.
Grate the orange zest, using only the surface part of the peel. Put half the zest in the dark chocolate and mix.
Separate the eggs and put the yolks in a large salad bowl. Whip the whites until stiff, and add 1 pinch of salt.
Pour the melted dark chocolate into a salad bowl with the yolks. Mix well.
Add orange juice and whites gradually, stirring gently.
Fill individual dessert dishes, sprinkle with the rest of the orange zest and chill for at least 6 hours.
Chocolate Lover? Then this book is FOR YOU!
Full-color e-book    All You Need Is…Chocolate!
$12.95
CHOCOLATE…What comes first to your mind when you hear this word, see fine chocolates, or smell its aroma? Chocolate has been considered as a gourmet treat by many cultures. Some ancient rituals handled cacao as a symbol of magic, spirituality, connection to God and heaven. Chocolate reputation as an aphrodisiac made it a symbol of love and passion, and a traditional gift on Valentine's Day. Its ease melting symbolizes the melting of two hearts, and its profound taste makes the celebration of love and romance even more special.
Are you a chocolate lover but feel guilty having an extra bar? I am going to prove that your addiction to chocolate is a very healthy habit. 
Throughout the colorful fancy pages you'll discover:
Amazing and rare facts about chocolate
How eating chocolate helps you to lose weight
Why you can distress yourself and feel happy eating chocolate
How eating chocolate prevents many life threatening diseases
New yummy and healthy chocolate desserts' recipes
Get this lovely 37-colorful-pages e-book to your inbox immediately, for only  $12.95
It's YOUR life, make it TASTY!