Chicken Roulades in White Sauce
Chicken Roulades in White Sauce
This is my family's favorite recipe. Chicken Roulades in White Sauce come out very tender and  juicy. Add a fresh salad or steamed vegetables of your choice, and have a delightful dinner!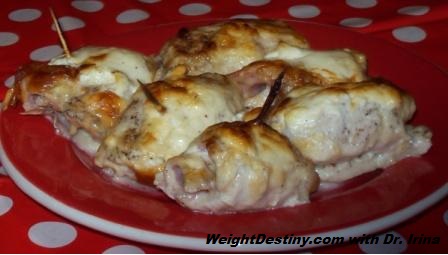 For 8 roulades:
Ingredients:
4 skinless boneless chicken breasts
8 slices of ham
8 slices of Horseradish cheese
Salt, fresh ground black pepper
White sauce:
1 cup of Light Sour cream (no sugar, no starch added), or Greek yogurt
2 tbsp mayonnaise (no sugar, no starch added)
On top:
Dry thyme or oregano
1-2 tbsp grated Parmesan cheese
Directions:
Cut each chicken breast in halves to get 8 slices the size of palm
Flatten to 1/4-inch thickness using a meat mallet
Sprinkle chicken with pepper and salt.
Place slice of ham on each chicken slice
Place slice of Horseradish cheese (if you are not excited about Horseradish cheese you can use Mozzarella, Provolone or Swiss cheese)
Roll up each breast wide wise, and secure with wooden toothpicks
Place chicken roulades in a deep baking dish
Pour the sauce, sprinkle with thyme or oregano, and Parmesan cheese
Back at 420*F for 35-40 minutes
Weight Loss Help
Please make sure that a sour cream and mayonnaise do NOT contain sugar, corn or potato starch, or high fructose corn syrup.
Even such medium Glycemic Index carbs as whole grain pasta, brown rice or beans should be avoided.