Black Cats Pasta with Pesto Sauce
Black Cats Pasta with Pesto Sauce
Shopping around for Halloween items, I found Black Cat Pasta® – cute  two-color  shapes of cat's face, body, and paws. Though they are not literally black, cooking such pasta for Halloween may be a good idea. Serving it with green pesto sauce makes it a little bit scarier.  😉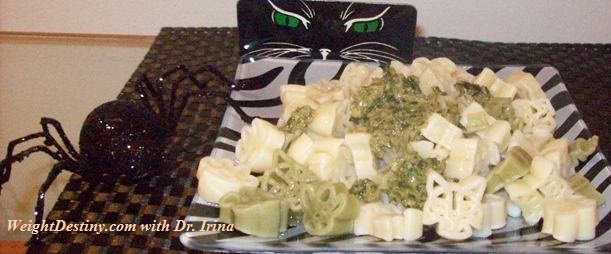 Ingredients:
1 package (14oz) Black Cat Pasta®,  pasta with personality!
Sauce pesto:
½ cup walnuts

3 cups fresh basil leaves or parsley leaves

1 garlic clove

½ cup olive oil

Salt, black pepper
Directions:
Cook pasta for 6-7 minutes

In a chopper or food processor, finely chop walnuts, garlic, and basil

Pour olive oil and process until smooth

Garnish with salt and pepper
Weight Loss Help
Glycemic Index of different kinds of pasta vary from 40 to 60, which can be considered as a Medium Glycemic Index
Cooking pasta with Low Glycemic Index greens (15) and walnuts (15), lowing the total Glycemic Index of this meal.
Olive oil goes perfectly well with other ingredients
Avoid adding cheese. Consuming its animal existed fats with carbohydrates (pasta) contributes to creating fat depots
 

Have a happy and full of fun Halloween!
 BOOOO!!  👿