Best Healthy Quesadillas
If you are looking for quesadillas' recipes thinking of light summer meal, this is the best quesadillas' recipe, since it is a low glycemic recipe and will keep your weight off. These healthy quesadillas are very quick and easy to make, great for lunch or for dinner, for outdoor picnic or kids' party.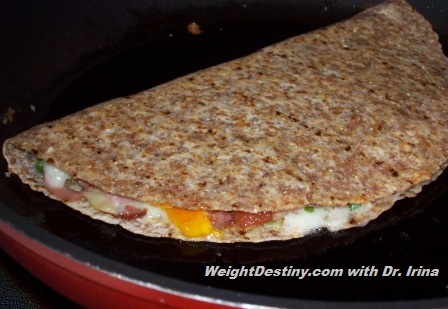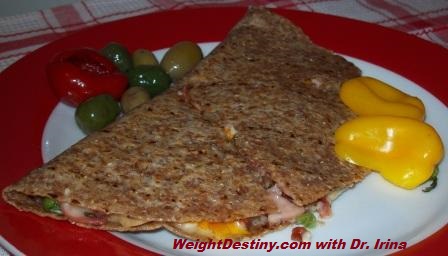 Ingredients for 1 quesadilla:
1 big Ezekiel 4:9® Sprouted Grain Tortillas
1 slice of Cheddar, Swiss, or Monterey Jack cheese
1 slice of Horseradish cheese
2 slices of ham or bologna finely cut
1/2 sweet yellow pepper finely cut
1 scallion branches finely cut
Olive oil for cooking

Directions:
Option #1:
Grate both kinds of cheese and mix them together.
Heat the oil in a large pan over medium heat and place a tortilla there.
Sprinkle with the cheese mix, then ham, pepper, and scallions.
Fold a tortilla in half and reduce the heat to low.
Cook about 2 minutes, turn over, and cook for another 2 minutes, or until cheese is melted.
Option #2:
Arrange all the ingredients on a tortilla, fold it in half and cook in a grill toaster for about 2 minutes.
Weight Loss Help
Ezekiel tortillas are made with sprouted grains and are 100% flourless. Their Glycemic Index is 36, low-medium.
If your blood cholesterol is higher than normal, you can make this recipe low fat by using a Mozzarella cheese and a chicken breast instead.
Keep the total Glycemic Index of your meal low: consume healthy quesadillas with any fresh salad (olive oil with vinegar for dressing), cooked zucchini, spinach, asparagus, eggplant or/and mushrooms.