Apple Walnuts Cake
This moist cake is great for any occasion, as well as a sweet dessert for Rosh Hashanah. Apples in honey is a symbol of Rosh Hashanah which stands for a sweet upcoming year. Following the Low Glycemic Index Lifestyle, we should avoid using honey. I made this Apple and Walnuts Cake using natural fructose, and the result exceeded all my expectations. VERY delicious!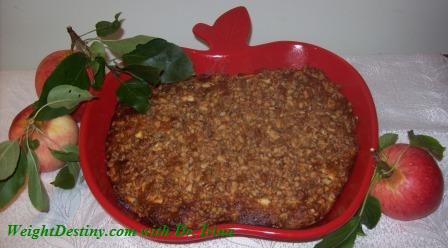 Ingredients:
Dough:
1 cup of oatmeal flour
1 cup of almond meal
1/2 cup pure fructose

1 teaspoon baking powder

1/2 cup vegetable oil

3 eggs, beaten

2 cups sweet apples, peeled and chopped

1/2 cup chopped walnuts

½ teaspoon cinnamon

½ teaspoon  ground nutmeg
Topping:
1/2 cup chopped walnuts
1/2 cup oatmeal flour
1/2 cup pure fructose

1/3 of frozen margarine stick
Directions
Preheat oven to 350* F (175* C). Grease a baking pan.

In a large bowl, sift together oat flour, almond meal, fructose and baking powder.

Add oil and eggs.

Fold in chopped apples and nuts.

Mix well, the batter will be thick.

Spread batter into prepared pan.

Manually, make small crumbs from the topping ingredients, and spread on the top

Bake about 40-50 minutes, until a toothpick, inserted into

cake

 comes out clean.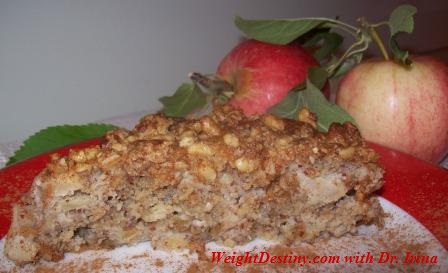 Weight Loss Help
High Glycemic Index (100) sugar substituted with pure fructose (20)
White wheat flour (85) with Low Glycemic Index Almond Meal (15) and oatmeal flour which Glycemic Index is Medium (40)
There is no saturated fat in this recipe
SHANA TOVA!