Almond-Coconut Cookies
Who says we got to gain "after holidays pounds?"  Not with the Low Glycemic Lifestyle!  I bet you'll like these amazing and simple cookies. The best part, they are flourless, sugar-free, gluten-free, grain-free, and Low Glycemic. How cool is that?!!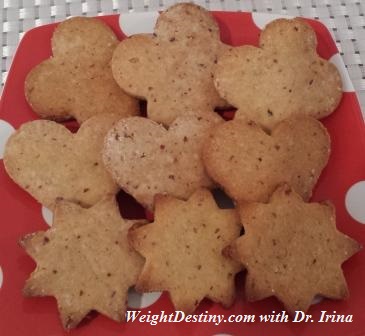 Ingredients and directions:
  In the bowl of a stand mixer, or using a hand mixer, whisk together and mix until incorporated:
1 stick of softened margarine

1/2 cup pure fructose

2 eggs

1 teaspoon lemon extract
In a separate bowl, combine dry ingredients:
2 1/2 cups of almond meal 
2/3 cup of coconut flour 

1/2 teaspoon baking soda

Pinch of salt
With the mixer running on low, start adding the flour mixture to the creamy mixture gradually. 
Replace the dough into a plastic wrap forming into a disc, and refrigerate for 1 hour and up to overnight.
Roll the dough on a flat surface sprinkled with almond meal or coconut flour. Cut your favorite shapes.
Bake on 350F (165*C) for 10 minutes. 
Flourless

Sugar-free

Gluten-free

Grain-free

Low Glycemic