Dieting Myth # 2:  Eating Less Guarantees Losing Weight
How to eat to lose weight? Being on a diet, most people intend to reduce portions' size. Though this intention makes sense, it is not always necessary. You can enjoy some food without restricting your portion size.
On the other hand, you may think that eating just a little bit of unhealthy food is OK, and you will not gain weight. This is not true. Even a small amount of unhealthy food will contribute to weight gain.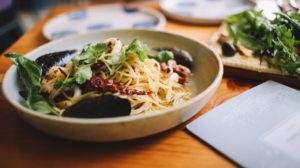 Using a previously described potatoes/pasta example, I can tell you that you may gain weight eating just a 1/2 cup of mashed potatoes, but DO NOT gain weight eating even 2 cups of pasta.
Why? Because their ability to increase a blood sugar level is not the same. As a general rule, the blood sugar increases after consuming the certain KIND of food, and not the certain AMOUNT of food. When we eat food which increases the blood sugar significantly, the bigger amount of hormone Insulin is produced by the pancreas. This leads to creating a fat depot, which you don't want.

Next time, when you eat a healthy food which has Low or Medium Glycemic Index , don't worry about your portions' size. However, when you are going to grab just a tiny mini sweet cookie, potato chips or popcorn, think twice. This small mistake may destroy all your previous efforts and dismiss the results you've already achieved. Isn't it too pity?
Enjoy a big portion of good food, and get slim!