Holiday Meals
Dr. Irina
2017-04-13T07:51:11+00:00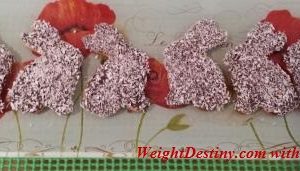 Almond-Coconut Easter Bunnies Who told that we should gain "after holidays pounds"? Not Read more
Full-color e-book    All You Need Is…Chocolate!
$12.95
CHOCOLATE…What comes first to your mind when you hear this word, see fine chocolates, or smell its aroma? Chocolate has been considered as a gourmet treat by many cultures. Some ancient rituals handled cacao as a symbol of magic, spirituality, connection to God and heaven. Chocolate reputation as an aphrodisiac made it a symbol of love and passion, and a traditional gift on Valentine's Day. Its ease melting symbolizes the melting of two hearts, and its profound taste makes the celebration of love and romance even more special.
Are you a chocolate lover but feel guilty having an extra bar? I am going to prove that your addiction to chocolate is a very healthy habit. 
Throughout the colorful fancy pages you'll discover:
Amazing and rare facts about chocolate
How eating chocolate helps you to lose weight
Why you can distress yourself and feel happy eating chocolate
How eating chocolate prevents many life threatening diseases
New yummy and healthy chocolate desserts' recipes
PREVIEW All You Need is…Chocolate! HERE  
Get this lovely 37-colorful-pages e-book to your inbox immediately, for only  $12.95
Full-color e-book   Mushrooms for Your Romantic Dinner
$9.90
 Nutritious Low Glycemic recipes with cooking instructions and colorful photos. Mushrooms contain fiber and have a Low Glycemic Index of only 15. Therefore they can be healthy combined with other food categories: carbohydrates (pasta, grains, beans), or with animal existed fat and proteins (meat, fish, cheese, milk products, eggs). Both stuffed mushrooms and gratins from this brochure are cooked very quickly. You can also make them a night ahead and then cook just before serving. They may be served as an appetizer or as a main meal. And the best – they are perfect for a romantic dinner! If you make them a night ahead, you need only 15 minutes for cooking when you come home from work. This is enough time for freshening up and opening your favorite wine 😉
Enjoy these new Low GI recipes and your unforgettable romantic dinner!
PREVIEW Mushrooms for Your Romantic Dinner HERE